Our company introduces a new range of houses on the water for the upcoming season 2018. These are units designed for different customers looking for comfort and relaxation in the nature. Individual models are dedicated to a wide range of customers. Each model is different in terms of price, size and function. Some of them can be used as offices on the water, others as stationary holiday apartments and others (equipped with an engine) to move around.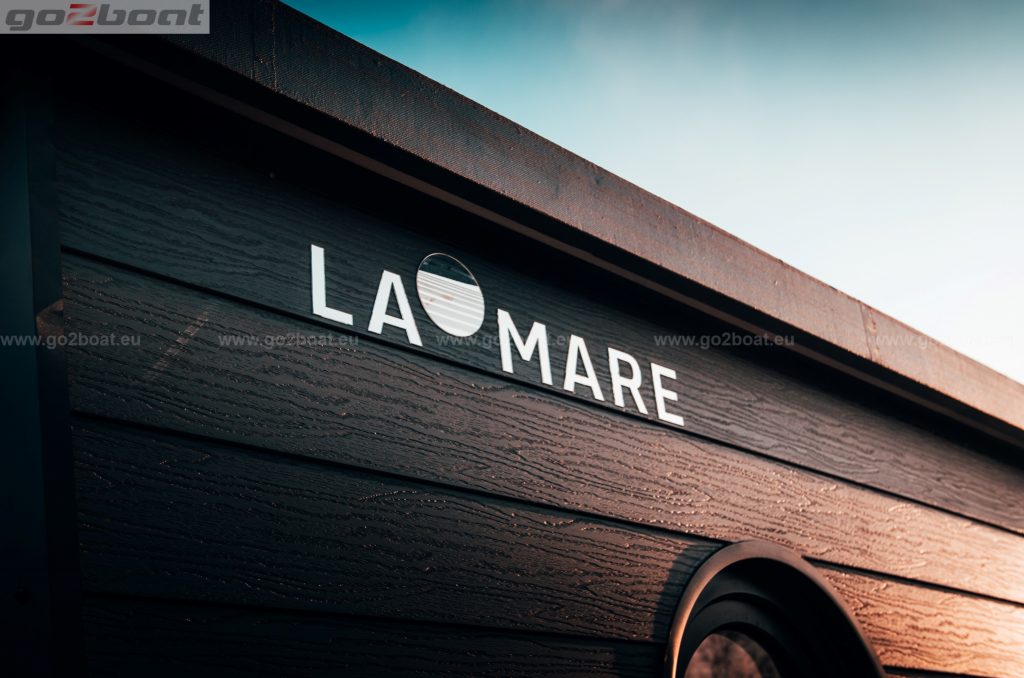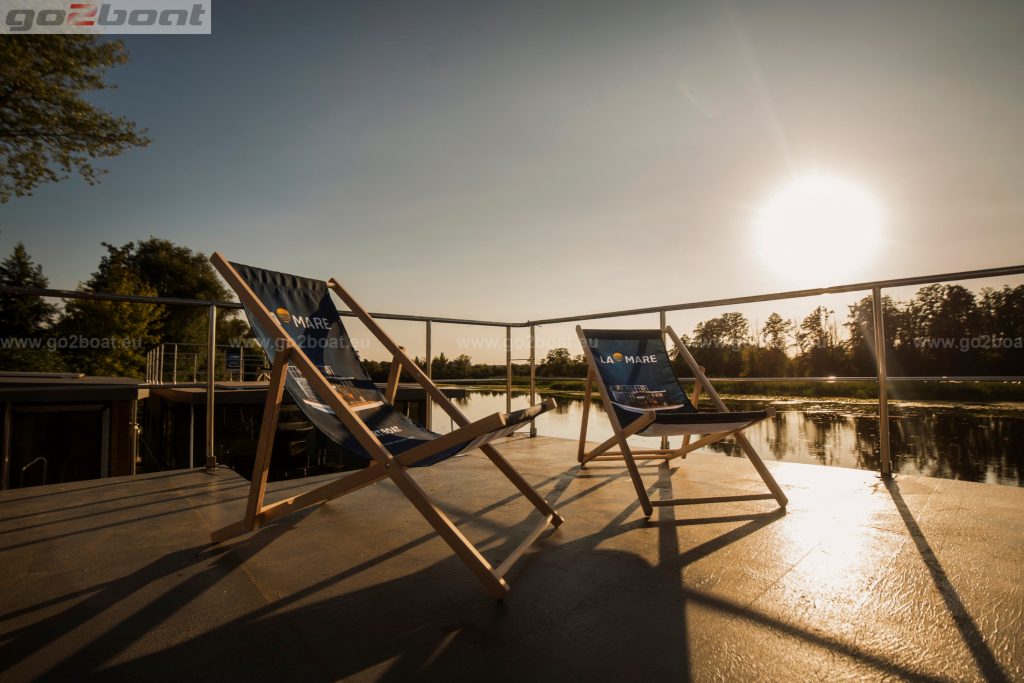 A full range of models allows to use them for the requirements of: hotels, guesthouses, holiday resorts, private properties, garden plots. La Mare is the comfort of closeness to nature and the possibility to choose a rest place, adapted to the preferences of a given person.
La Mare still offers something completely unique…. which house can move? These houses float on the water and are equipped with engines. They freely cross the canals and navigate rivers and lakes. This allows you to change your mooring place and enjoy the charm of the new surroundings. The upper terraces allow you to enjoy the full landscape.
Comfortable rest in a floating house – a dream or reality?
Only a decade ago, houses on the water in our country were a dream comparable to flying into space. Nowadays, this exclusive and prestigious way of rest, but also lifestyle, is available at your fingertips. What's more, in the face of climate change, it may soon turn out to be not only a non-standard place to live in, but also an investment for the future.
What deters people from fulfilling their dreams of a floating house?
In the case of the dream of a floating house, the biggest nightmare are the formalities preceding the investment. Yes, there is a long way to get permission for a project and to register it as a residential building. However, according to architects from the Q44 design studio in Warsaw, it is clearly defined by law. However, the frustration is caused by another issue – the urban planners approach to this type of water structures. It depends on them whether a given investment will be built in the area planned by them spatially. Another issue is the change of lifestyle and adjustment of all activities to the stay in the vicinity of water reservoirs. What's more, water houses can be too small for many people to be able to fulfil their desired residential functions.
How to turn dreams of a floating house into reality?
In order to take the first step towards making your dreams about a house on water come true, you need to find a suitable company that will select or create a project that meets our expectations. One such company is La Mare from Bydgoszcz. In the offer of this manufacturer you will find a wide range of floating houses. Depending on your preferences, we can choose projects with ready-made furniture, additional options, which include, among others, the equipment needed to move on the water using a floating house. La Mare also provides contact with other dealers of innovative houses, whose headquarters are located in Germany or Netherlands. Countries are not chosen by chance, as in the Netherlands, for example, the status of floating houses is clearly regulated by law. For this reason, the possibility of mooring them is not surrounded by as many regulations as in Poland.
How to choose a place for a floating house
It would seem that a floating house can be build on the shores of any water reservoir. In practice, it turns out that this is not the case, if only for safety reasons. Here are a few tips to help you choose the perfect place for your floating house.
Floating houses and legal issues
Before choosing a place to moor our floating house, we should get familiar with the local zoning plan. Thanks to it, we will learn where the shoreline of a given reservoir has been planned. In addition, it is also worth checking if the place we have chosen is not under conservation protection. In such a case, we will have to obtain a permission for our floating house, because it will interfere with the landscape, which has been taken care of. It happens that the project has to be redesigned in such a way that it is adapted, among other things, to the development of the historical shore of the water reservoir. If we decide to have a floating house on the bank of a river on which there is regular water traffic, we should go to the Inland Navigation Office. This authority will determine whether the floating house is not an obstacle for watercrafts. Finally, there are the financial issues, that is to say, the fees associated with mooring at a given place. They are determined by the relevant department of the Regional Water Management Authority.
Safety of floating houses
In order to fully enjoy the floating house, we need to ensure the safety of the place where it is moored. We are not prepared for some circumstances, e.g. weather conditions, but we are able to prepare for any inconveniences after obtaining appropriate information. First of all, we have to choose a place that is not threatened by flooding or deluge, or the effects of sudden water intake are limited. The Regional Water Management Authority will provide us with such information. The construction of most floating houses is adapted to sudden changes in the water level through the use of appropriate float technology. However, violent weather conditions resulting from climate change have become increasingly frequent and intense in recent years. In the context of the safety of floating houses, more prosaic issues are also important – burglaries and acts of vandalism. In order to avoid them, it is well advised to choose a place that is not located in a total remote area, preferably monitored. If we are not able to provide such conditions, it is worth creating them ourselves. A burglar alarm and a lifted gangway to our floating apartment will effectively discourage potential uninvited guests.
Floating house as a picturesque corner
When all the formalities are over, and the place for a floating house is in a safe area, it's time to think about a picturesque corner. Very often we choose a floating house as a seasonal attraction. Therefore, it should be a paradise on earth for us for this short time. It is worth to choose a place located a bit on the outskirts of civilization, necessarily exposed to the east. Some houses have magnificent panoramic windows, which increase the strength of morning sunlight. Models of houses with this type of technical solution are offered by La Mare company from Bydgoszcz.
House on the water vs. motor boats – what are the differences?
Floating house and houseboat – mobility
The main difference between houseboats often confused with floating houses is their degree of mobility. A floating house is moored on special floats or a float by a water reservoir. The possibility of its transport is limited and requires a tugboat. The mooring place must meet formal requirements (e.g. legal permissions), as well as practical requirements (e.g. media connection). A motor boat is usually constructed on the basis of similarity to a catamaran – a watercraft. For this reason, it is driven by outboard engine of different power. This vessel is ideal for tourism based on river navigation.
Floating houses and motor boats – differences in construction
Motor boats are high-stability vessels that do not require ballasting. This means that we don't need a boatbuilder to create them. For this reason, boats are relatively easy to build or purchase. Their lightweight but robust construction ensures mobility and manoeuvrability. Most catamarans are based on steel frames, coated with aluminium and anti-corrosion coating. Boat shells are light, wooden elements built on the basis of lacquered wood panels. The construction of a motor boat can be supplemented with, among others, solar panels or power generators.
Transport of motor boats and transport of floating houses
The main advantage of catamarans is the possibility of relatively fast and cheap transportation. Of course, it depends on the characteristics of a given water area. Water reservoirs connected by a system of locks are best suited for this purpose. This mobility causes that our boat is still treated as a water vehicle and not – unlike a house on the water – as a residential object. This means that its use does not require the maintenance of separate regulations relating, among others, to the address of residence. For these reasons catamarans are mostly dedicated to water tourism rather than long-term living on water.
Living conditions in floating houses and in motor boats
A catamaran is a water equivalent of a camper or caravan. This means that the conditions in it are to imitate as much as possible those known from flats and houses. The keyword is "imitation", because they do it as much as the mobile character of a water vehicle allows. In practice, this means that the conditions on motor boats are strongly field conditions. Unlike floating houses, boats do not have such extensive heating and sanitary systems, and their surface area is much smaller. Catamarans are primarily watercraft, so they must meet the technical requirements for navigating. This usually excludes the installation and the creation of many amenities, such as the construction of spacious rooms.