Currently, it is one of the largest Polish manufacturers specializing in the construction of yachts and boats made of polyester-glass laminate with hulls from 5 to 12 meters in length.

Since the beginning BaltYacht has been a manufacturer of boats for demanding foreign customers such as MAR-IMPORT, Jeanneau, X-Yachts or Hydro Design AS. At present, the vast majority of the products – about 95% – are also sold to foreign customers. For many years the main partner has been Brunswick Marine in EMEA Inc., for which the shipyard produces large series of motor yachts Arvor and Quicksilver, and for several years the Norwegian company Goldfish Boat.
Balt Yacht offers houseboats, semi-planing and sailing boats. Among them are, for example, the new exclusive houseboat – SunCamper 35 – NEW 2018 (winner of the award Gwóźdź TargówWiatr i Woda 2018 -award of the "Żagle" magazine in the Large Motor Yacht category); houseboat – SunCamper 30 (winner of the prestigious Polish Yacht of the Year 2011 award) and Balt 818 Titanium – the first semi-planing houseboat in Poland (winner of the Polish Yacht of the Year 2015 award) introduced in cooperation with Yachts Export Poland. The above mentioned houseboats were designed in cooperation with the experienced design office Centkowski & Denert Design Studio. The shipyard also offers sailing boats: Balt 26 (winner of the Wind and Water Product Award 2013) and Balt 27 (the maritime equivalent of Balt 26), a project of the award-winning regatta boat and constructor Wojciech Spisak.
Delphia Yachts - shipyard
Delphia Yachts Shipyard was founded in 1990 by two brothers – Piotr and Wojciech Kot. Currently it is the largest manufacturer of sailing yachts in Poland, offering models from 7 to 15 m long.
The construction of a yacht is a complex process requiring specialized technical knowledge. Delphia Yachts combines such knowledge with experience and advanced technology, creating boats of the highest class.

It offers yachts and boats for private use as well as for business and promotional purposes. Companies, institutions and cities can purchase our products or lease them together with the service and crew. Other forms of cooperation in the field of service and advertising cruises are also possible.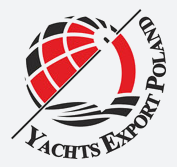 The company was established in 2006 thanks to the passion and close cooperation of two current co-owners Michał Szafrański and Philip Drożdż.
We cooperate with the largest Polish shipyards and yacht manufacturers, such as Delphia Yachts Kot Sp.J., Balt Yacht K.A.i B. Kozłowscy Sp.J., MPPB JW Slepsk, Parker Poland Sp.z o.o., Quicksilver, Cortina, Smartliner or Galeon Sp. z o.o. S.K.
Yachts Export Poland is the owner and exclusive distributor of the first semi-planing yachts on the Polish market: Balt 818 Titanium ( New 2014, Yacht of the Year 2015) and 989 Platinum ( New 2016/2017).

About company
Every Galeon yacht is a piece of handcrafted excellence and thanks to the unparalleled attention to detail, cutting edge technology and great designs the company has become one of the premier European boat builders. With over 30 years of experience in the business and thousands of satisfied customers from all around the world – you can be sure your next Galeon yacht will meet all your expectations.
History
Established in 1982, Galeon remains a privately owned company specializing in constructing luxury yacht and motorboats. With clear vision and steady growth we have reached employment of over 1400 people working on 18,000 square meters of production and assembly halls, capable of taking on even the most ambitious projects.
New designes
Every great project starts with a bold idea to create something beautiful and unforgettable. The invaluable experience we have gained over the years allows us to be on the forefront of innovative boat builders, constantly introducing new and daring designs. With each new generation of Galeon yachts we push the limit even further.
Company development
To accomplish our ambitious plans of constant growth required an expansion of our facilities. In order to develop and construct even bigger models we built a second factory with direct access to the Baltic sea. With a private marina, that also offers berths for Galeon yachts owners, we are definitely ready for the future.
Future objectives
Over the years Galeon yachts have gained recognition for their great designs, superb performance and uncanny level of craftsmanship. We strive to become synonymous with high quality, innovative features and perfect execution of our products. Our attention to detail and willingness to improve constantly pushes us forward.